Question
Hi there. We're going to start our semi-annual clearance sale next week. I'd love to have the same things marked down online, but do I have to put the sale prices in Quickbooks POS? I'd rather enter the sale prices in Store Manager directly rather than in Quickbooks.
I'm not trying to skirt the system, it's just that I have spent hours trying to figure out how to do those markdowns in Quickbooks POS, and I am just not smart enough, I can't figure it out how to do it. I've talked to a QBPOS expert, and he couldn't figure it out, either!
It's very easy for us to manually adjust a price when someone is checking out, so this is how we've always traditionally handled mark-downs.
Answer
Yes, we can configure your store to get the "base price" from Quickbooks POS and allow you to enter sale prices directly in Store Manager. Some clients prefer this setup when they want to put items on sale on the website but not their store. Others find it simply easier to enter sale prices in Store Manager rather than Quickbooks, especially when they have a sale just once or twice a year.
I have "opened up" the Sale Price fields in Store Manager for you. Please simply enter in a sale price for your products with an appropriate start and end date.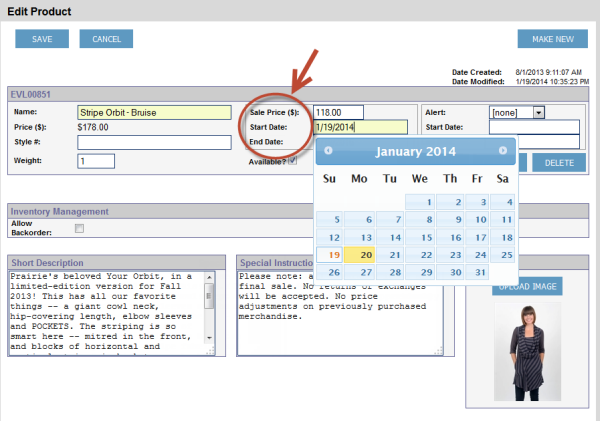 If you ever needed to manage the sale prices at the item-level, like for an individual size, you can do this by going to the Edit Option page. Clicking on Edit next to the item will allow you to set the sale prices for indivual sizes and even allow you to specify Allow Backorder if necessary.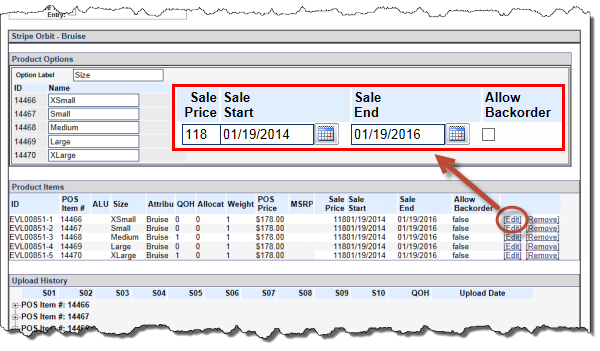 Please let us know if you need anything else. Thank you.
Date Created: 01/20/14