Overview
This help page will show you how to reset a deleted product so that it will be sent back to your platform as a clean, new product.
First the product must be deleted in your ecommerce platform.  WooCommerce users must also delete the product from their Trash folder.
Log into the Admin Panel > Products > Check Product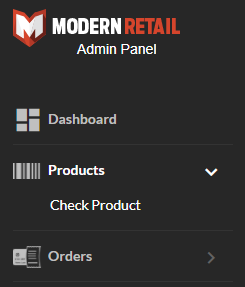 You can search for your product by Style Number (ALU) or the individual item SKU (Integration ID) or by Product Name.
Your deleted product will show with a "Restore" in the Deleted  column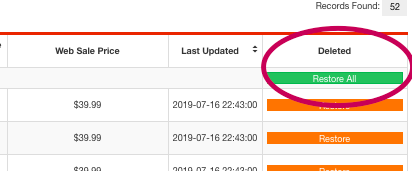 To resend the whole product to the platform, click the "restore all " button on the far right of the screen.  Your product will come over the next time the integration runs; typically within an hour.
If you have just one of the variations that you need to restore, just click the "restore" button that corresponds to that item. 
NOTES
If the product you're deleting has been previously edited and has images or content, be sure to save that information.  When the product comes back into the platform that information will be gone and cannot be retrieved. 
When products return to the platform they will look like brand new products; they'll be disabled and categories will not be assigned.