Question
I just heard from my Counterpoint reseller that NRO is being retired in March of 2018. I got up in the middle of the night thinking about what I'm going to do with my website now that NRO is going away. My reseller talked to me about a couple of options but they are all far too expensive. Luckily I stumbled across your website and it looks like you can save me from this peril. Your Counterpoint Integrator looks like it easily connects to a bunch of different ecommerce platforms. As I'm sure you know NRO was based on Magento, version 1. However, I don't think I'll use Magento for my new website and instead will want to get Counterpoint integrated with Shopify. However, I noticed you can also get Counterpoint integrated with Bigcommerce and WooCommerce so I will look into those as well.
I'm sorry I feel like I'm rambling but I'm very tired and little teary eyed believing I found someone who can help me replace NCR Retail Online. Anxiously awaiting your reply. Thank you. Betsy.
Answer
Hello Betsy,
Please put your mind at rest we can definitely help you with your Counterpoint integration. We've been doing these integrations for a very long time (11+ years and counting) and have created a very easy way of getting Counterpoint integrated with Shopify, Bigcommerce, WooCommerce and Magento (v1 & v2).
Yes, the official end of life date for NCR Retail Online is March 31, 2018. This gives you plenty of time of switch to whatever ecommerce platform makes sense for your business.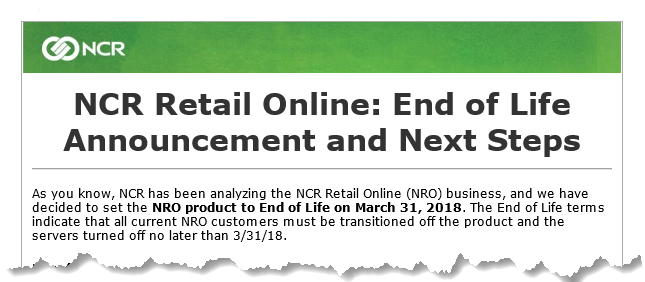 Ok, here's a bunch of information about our Counterpoint integration.
You can get an overview and purchase our Counterpoint Integrator here:
If you need more information on how the Counterpoint integration works, please read:
If you are interested in how we manage your integration project please read:
Finally, if you're interested in our on-going support and upgrades please read: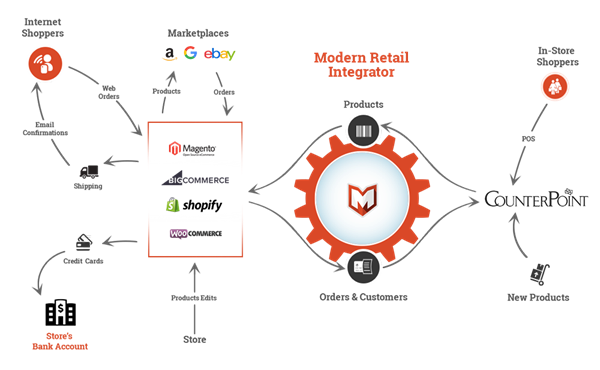 You'll find we're experts at POS and ERP integrations, it's something we been doing for over a decade and have amassed a great deal of knowledge and technology doing 1,300+ integrations. Here are just some of the articles that I can share with you that make us different.
Please let me know if you have any questions and sleep easy, we have your back.