Question
I am interested in learning a bit more about integrations from POS systems to my website. Also on how retailers are investing on selling channels such as amazon and ebay, and how everything works together.
Answer
Thank you for your interest in Modern Retail.  Yes, Modern Retail helps retailers get their in-store point of sale (POS) system integrated with their ecommerce website.  Today we support over 2 dozen POS systems which can integrated with Shopify, Bigcommerce, WooCommerce and Magento (v1 & v2).  You can find a list of the POS and ERP systems we support here:
You're right a lot of retailers are coming to us asking how to integrate with Amazon, eBay and other marketplaces.  They are also interested in finding out how everything ties together and how they can automate the integration with these marketplaces.  As you can see from the diagram below both Amazon and eBay are integrated directly with the ecommerce platform.  Therefore, Modern Retail does the integration between the POS system and the ecommerce platform and those platforms talk directly to the marketplace.  This allows products to flow up to these marketplace and orders to flow down, which these orders then flow directly into the POS system.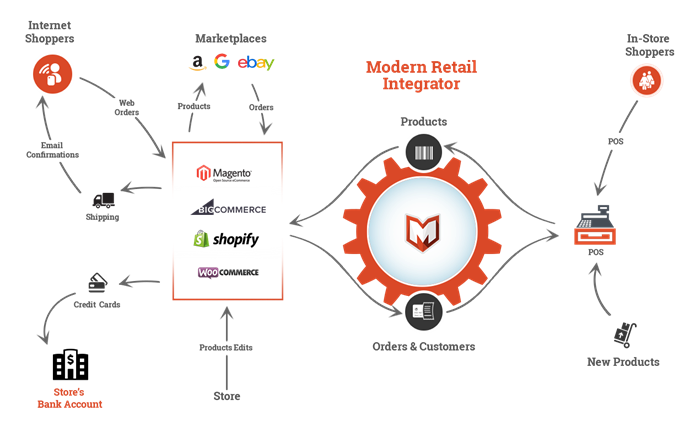 Regarding how retailers are investing in Amazon and eBay, the following slide from a recent Bigcommerce townhall discussion may shed some light on this question.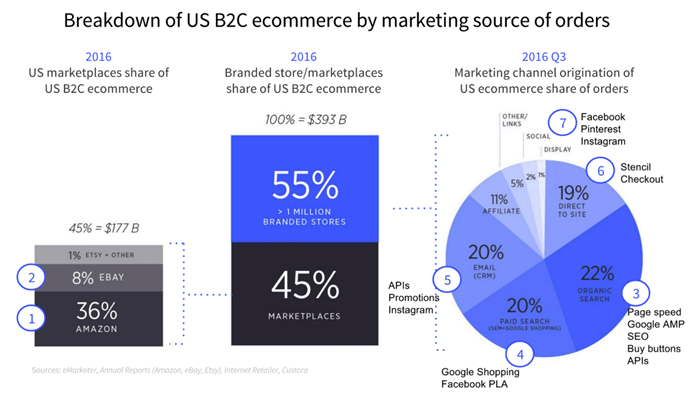 Let me know if you have any more questions or would like to schedule a time to talk about your ecommerce, integration and marketing needs.  Thank you.