In the CounterPoint Integrator, price configurations are made in the "CP Setup Price" window, found in MAIN MENU->SETUP->CP PRICE.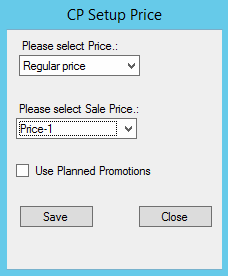 There are 2 dropdown list labeled "Please select Price" and "Please select Sales Price". Each of the dropdown list allow you to select Regular Price, Price-1, Price-2 or Price-3.
In a typical configuration the top dropdown list "Price" will be set to "Regular Price". This will be the Price sent to the your website. The bottom dropdown list "Sales Price" might be set as Price-2 or Price-3. This would be the Sales Price if populated in CounterPoint.